Welcome to the Osomatsu Wiki!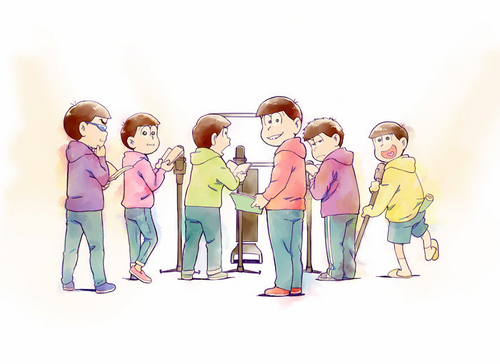 Welcome to the Osomatsu Wiki. We're dedicated to recording everything we can about the Osomatsu Franchise. If you notice any content that may be missing, that is incorrect or that can be added to, please help out!

There have been a total of 9,313 edits over 431 articles and 1,247 images.
This Wiki contains spoilers, so please read at your own risk!
About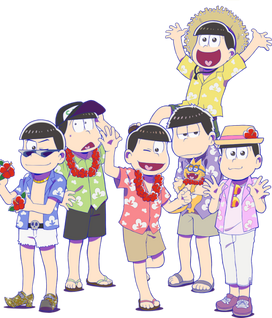 Osomatsu-kun
(おそ松くん
Osomatsu-kun
), also known by its later spinoff of
Osomatsu-san
or
Mr. Osomatsu
, is a comedy series created by
Fujio Akatsuka
and afterwards produced by such companies as
Studio Zero
and
Studio Pierrot
. It has lived to see many iterations, including its original long-running manga series, multiple anime television shows, and other spinoff media like games.
It is considered to be something of a Japanese cultural icon and had influenced the popularity of Akatsuka's later works, such as The Genius Bakabon, and has won multiple awards throughout its airings and serializations. The series follows the shenanigans and misadventures of the Matsuno brothers, a set of identical sextuplets who seem to have a shared penchant for causing mischief and getting into trouble. They are lead by the eldest brother and titular character, Osomatsu Matsuno. The latter half of the manga (and the 1988 anime series in particular) also follows the exploits of Iyami and Chibita, who give their all towards exploiting others for the sake of making large bank, though always find themselves thwarted by the Matsuno brothers.
Osomatsu-kun initially found its roots as a gag manga series, written and illustrated by Fujio Akatsuka and printed in the Weekly Shonen Sunday magazine during its entire initial run from 1962 to 1969, with further revivals in Weekly Shonen King, Comic BomBom, and TV Magazine within the following two decades. The manga has been adapted into two separate anime series thus far; once in 1966, produced by Studio Zero, and again in 1988 but aproduced by Studio Pierrot. Also in 1988, a tie-in platformer game titled Osomatsu-kun: Nonsense Theater (おそ松くん はちゃめちゃ劇場 Osomatsu-kun: Hachamecha Gekijou) was released for the Sega Mega Drive, making its mark as both one of the first four games released for the Mega Drive upon its release and being the first Mega Drive game to not be released outside of Japan.
A third but unrelated spinoff/re-imagining began in 2015, titled
Osomatsu-san
(おそ松さん
Osomatsu-san
), which was also created by Studio Pierrot and has run for two seasons. It also has a tie-in manga adaptation penned by the author Masako Shitara.